How to Obtain Digital School Documents from India through Truecopy
Higher education documentation is becoming increasingly digitized around the world. As students set their sights on the United States to continue their studies and/or find work, both students and the institutions they are applying to will need efficient access to student records. The traditional process of reaching out to an institution and requesting official copies is beginning to change as digitization becomes more widespread. It has the potential to make the international application process smoother and more secure.
For students who come from India (around 18% of all international students in the United States), it can sometimes be problematic trying to obtain documents directly from a school. The amount of time that it takes to receive documents via mail can be both inefficient and expensive. Now, there are services that solve this problem.
Scholaro has partnered with Truecopy credentials and Worldwide Transcripts to electronically send applicant transcripts directly to Scholaro. These services allow students in India to send their transcripts electronically to a receiving organization, college or university. They have experience assisting students from many issuing universities throughout the country.
The goal of these services is to assist students educated in India to securely deliver their educational documents, be they mark sheets, degree certificates, etc., to receiving organizations around the world, including Scholaro. The overall cost for document processing and delivery starts at approximately $20.00 USD, which is much more affordable than just courier shipping of paper documents.
To complete a Course by Course of General evaluation report, Scholaro just needs the provisional/degree certificate or diploma, and transcripts or marks sheets.
Attempting to provide your documents directly to evaluation services can sometimes involve hurdles and delays. Student copies and provisional documents provided by institutions are sometimes difficult to verify. Scholaro and other U.S. institutions may have to request the institution to mail hard copies, which can take weeks to arrive, potentially after a given deadline.
The processing time for transcript delivery starts from 2 business days. It may take over 5 business days for courier services to send hard copies of documents directly from universities in India, and some institutions have been known to take even longer.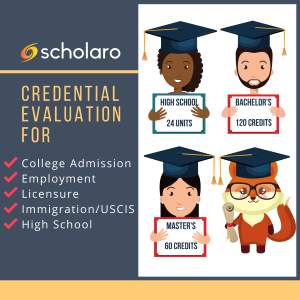 Learn About: