Scholaro vs. ECE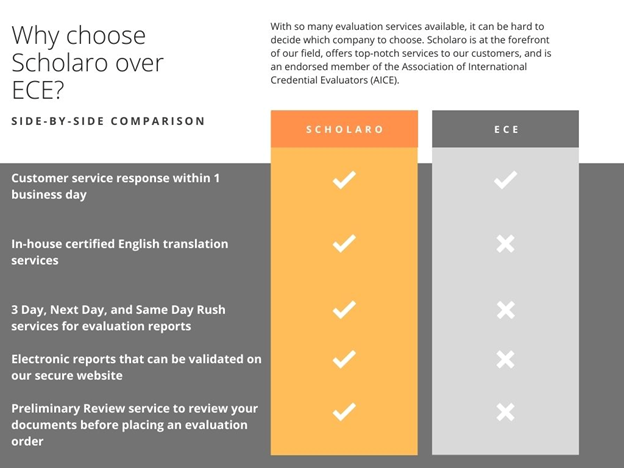 Should I choose Scholaro instead of ECE to do my credential evaluation report?
If you studied in another country and want to study or work in the US, you will most likely need a credential evaluation report completed by a credential evaluation agency. This agency will evaluate your academic degree(s) and determine their US equivalence, and they can also determine the US equivalence of your credits, grades, and GPA.
Because there are so many options, many applicants struggle with choosing a credential evaluation agency. Which agency is best? Which one offers the best services? We're here to show you that Scholaro is at the forefront of the field, while also offering stellar customer service and additional services that set us apart from our competitors.
Scholaro is an endorsed member of AICE, the Association of International Credential Evaluators. We are accepted by USCIS and any universities/organizations that accept evaluations from AICE companies. Read more below to see why Scholaro is the right choice for you.
Customer Service
One look at our reviews will show you that our customer service is second-to-none. We can be reached by email, livechat, or phone call during our business hours. If you contact us outside of business hours, we will usually respond to your inquiries within 1 business day (often even more quickly!). We understand that this process can be stressful, especially if you have an upcoming deadline, so we make it our priority to respond in a timely manner and resolve any issues as soon as possible. Whether you have questions about what type of report you need, or about a completed report, our customer service staff are always happy to help.
Translation
If you studied in a country that uses a language other than English for documentation, you will almost certainly need to have your documents translated into English at some point. The majority of evaluation companies, including ECE, require that you obtain certified English translations from a third party before completing an evaluation report. At Scholaro, we can complete in-house certified English translations for any language, and the standard processing time for translations is 2-3 business days. We even offer a discount on translation if you are ordering translation with an evaluation report order. Just need English translations without an evaluation report? We can do standalone translations too. We know that it can be confusing, time-consuming, and expensive to translate your documents with one company and then evaluate them with another, so Scholaro has made the entire process much simpler by offering in-house translations.
Rush Services
We understand that deadlines come up quickly for both school admissions and job applications, so we offer 3-Day, Next Day, and Same Day rush services for evaluation reports. Some of our competitors, including ECE, offer a 5-day rush service, but we've found that our clients often need it sooner than this. All orders placed before 2pm CST will be processed that same day. For example, a Same Day rush order placed at 1:30pm CST will be completed that same business day (provided all of the proper documentation is provided.) If placed after 2pm CST, your order will be processed the following business day. Simply select a rush service when completing your order form, and we will take it from there. By offering rush services, Scholaro sets itself apart from the competition while also providing a smooth and stress-free service to our clients.
Report Check
We live in a digital age, and many universities and workplaces prefer to handle digital documents rather than hard copies. However, we know that email is not the most secure way to send digital documents, so we have come up with a solution. Scholaro now offers the ability to look up our electronic reports via our website. The authenticity and contents of our reports can be checked on our website within seconds; all you need is the Report ID and full name as it appears on the report. This feature allows recipients of our reports to be confident that the report is authentic and has not been altered in any way.
Preliminary Review Service
Most evaluation companies will not look at your documents until you have placed a full order with them. Scholaro understands that sometimes you might not know if your documents are sufficient to complete an evaluation report. This is why we offer our Preliminary Review service. For just $40, we will review your documents, determine if they are sufficient for evaluation, and provide you with a customized quote for our services. We will even check the accreditation status of your previous institution. If you then decide to place a full order with us for an evaluation report, you can use a discount code to take $40 off the full price of an evaluation report. This allows our clients to have peace of mind that their documents are sufficient for evaluation without having to pay the full price of an evaluation report upfront.
Convinced?
Now that you know the many ways that Scholaro excels over the competition, including ECE, you are probably ready to place an order! Our order form is very straightforward and easy to understand, but if you need any assistance, always feel free to reach out to our customer service team.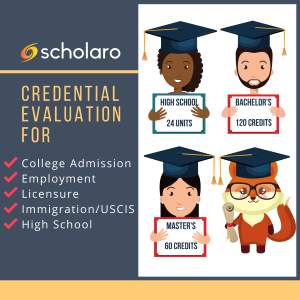 Learn About: