Credential Evaluation for Teaching License
Teaching is a licensed profession in the United States. This means that to get a job as a teacher, a candidate must obtain permission from an appropriate authority in the form of a teaching license. In the United States, each state has a statutory body overseeing education, such as a "Department of Education" or "Board of Education". A complete listing of state departments of education can be found at https://www2.ed.gov/about/contacts/state/index.html.
The application requirements and procedures are unique to each state. Many states offer reciprocity for valid teaching licenses from other US states, but if this is your first time applying to work as a teacher, you must follow the procedures and meet the requirements of the state where you plan to work.
There are different categories of teaching licenses. These depend on grade level, type of position (permanent or substitute), administrative roles and various special endorsements. All licenses have education requirements.
To meet state licensing education requirements, international applicants and anyone with a foreign degree, one earned outside of the United States, must follow a credential evaluation process approved by the state department of education. This typically requires using a credential evaluation service approved by the state.
There are two ways states approve credential evaluation services:
The state lists one or more evaluation services by name, such as Ohio or Illinois.

Scholaro is listed on these and many other state education departments.

The state requires using a credential evaluation agency that is endorsed by one or both of the two agencies that oversee credential evaluation agencies (AICE or NACES), such as Pennsylvania and Florida.

Scholaro is an Endorsed Member of AICE and is accepted by any board or organization that accepts AICE reports.
When seeking a teaching license with a degree earned outside of the United States, it is necessary to get a credential evaluation report from a company approved by that state. If you can not find a list of approved evaluation services published in your state, it is important to contact the education department to inquire if Scholaro evaluations are accepted.
Scholaro evaluation reports are already accepted in the following states:
Arizona (AZ) – Arizona Department of Education
Delaware (DE) – Delaware Department of Education
District of Columbia (DC) – DC Office of the State Superintendent of Education
Florida (FL) – Florida Department of Education
Illinois (IL) – Illinois State Board of Education
Louisiana (LA) - Louisiana Department of Education
Maryland (MD) – Maryland State Department of Education
Nevada (NV) – State of Nevada Department of Education
New Jersey (NJ) – State of New Jersey Department of Education
New York (NY) – New York State Education Department
Ohio (OH) – Ohio Department of Education
Pennsylvania (PN) – Pennsylvania Department of Education
South Carolina (SC) – South Carolina Department of Education
South Dakota (SD) – South Dakota Department of Education
Texas (TX) – Texas Education Agency
Washington (WA) – Washington Office of the Superintendent of Public Instruction
West Virginia (WV) – West Virginia Department of Education
Wisconsin (WI) – Wisconsin Department of Public Instruction
If you are applying for a teaching license in a different state, please contact the education department directly and request that a Scholaro evaluation report is accepted. You can use the following template below when making your request:
Dear State Department of Education,
I am applying for a license in your state and completed my education in a foreign country. I would like to evaluate my foreign credentials through Scholaro Inc. and request confirmation that my international credential evaluation report from Scholaro Inc. will be accepted with my license application.
Scholaro Inc. is an Endorsed member of AICE (Association of International Credential Evaluators). Please visit www.scholaro.com for more information and contact them with any questions.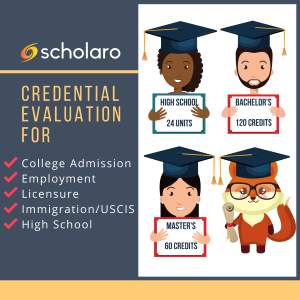 Learn About: