Credential Evaluation
Foreign education systems are diverse in many ways including structure, content, documentation, and outcomes. At Scholaro, our expertise starts with in-depth research and understanding of unique systems of education in different countries. This information can then be used to compare credentials earned within one system in the context of another. While in many cases, there is little or no linearity with the United States' or another country's system of education to which we are evaluating, basic principles of credential evaluation can be relied upon to determine an applicant's academic preparation required to earn the degree or credential in question. This process is the same regardless of the academic level, type of institution, or purpose of the evaluation.
Fundamentally, credentials are just pieces of paper, but the information they convey is crucial in determining an applicant's academic accomplishments. Scholaro's credential evaluation reports provide a clear assessment of the level of education as compared to the degrees and credentials earned in the domestic education system. The service also assesses the academic value of the credential in the home system, ensuring that it is equally recognized within the system, and that the awarding institution is appropriately authorized or overseen for this purpose.
Delving deeper into the foreign academic credential evaluation process, it is not always enough to determine an overall equivalence. In order to make an informed assessment, and to meet any pre-established guidelines or requirements, it is necessary to quantify the studies of various subject into the local units of measurement. Foreign academic credentials quantify academic studies in various ways, using points of reference such as contact hours, maximum marks, foreign credits, etc. Converting such units to the system used locally is an exercise of proportions – comparing what is presented on the foreign credential to what would be expected on a transcript issued for a full-time student locally. Besides ensuring that a foreign program meets specific requirements, you can, at this point, assess an applicant's performance in singular subjects, allowing you to more accurately predict their preparation for their intended purpose. Finally, Scholaro's evaluation reports present an accurate depiction of an individual's academic performance within the program being evaluated. In the United States, this is reported in the form of a grade point average or GPA, a mathematical average on the US A-F grading scale. However, few other countries employ a similar scale. Therefore, in the evaluation process, Scholaro's evaluators employ researched grade conversion scales from any country, institution, or level of education, to first convert the foreign grades to those familiar to the US reader. The GPA is then expertly calculated, taking into account individual course weighting converted into semester credits.
Scholaro helps individuals, companies, and institutions receive accurate and timely evaluations of foreign credentials. We can evaluate diplomas and academic transcripts from any country and prepare General and Course-by-Course evaluations for employment, immigration, college admission, and licensing. The reports prepared by our firm have been successfully submitted to USCIS, USPTO, NASA, and to many schools, universities and private companies.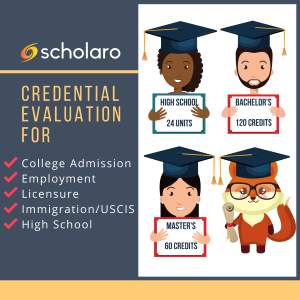 Learn About: