Evaluation Services
Education evaluation services are services for evaluating international academic credentials. Some academic institutions evaluate international credentials in-house. Others outsource the process to private agencies dedicated to the evaluation or foreign academic documents for academic purposes as well as licensure, immigration, and employment. The decision to outsource the process is a complicated one, as the school is relinquishing the control over a key aspect of the application review process. However, utilizing a service provider with extensive experience and resources can be an efficient solution and result in more accurate evaluation, especially if institution's resources are limited.
There is no governmental oversight for private credential evaluation agencies or a universal mandate to follow any established guidelines. Therefore, the selection of service provider must be done with care, ensuring a thorough understanding of that provider's policies, requirements, and standards. There is no central governmental authority that monitors the credential evaluation industry or private evaluation agencies. However, there are two associations that maintain rigorous selection criteria, codes of conduct, and guidelines for operation, certifying to the operational ethics of member evaluation agencies. Scholaro is a member of one of them, AICE. Regardless if the evaluation process is internal or outsourced, the admitting institution assumes the risk of turning down an excellent student or admitting one who is inadequately prepared when credential evaluation is paid insufficient attention.
Anyone involved in the process of credential evaluation needs access to resources. Resources on international comparative education systems are published and updated regularly by entities such as foreign ministries of education, organizations like NAFSA and AACRAO, and private credential evaluation firms, to name a few. Although many such resources are accessible for free online, it is prudent to designate funding to invest in commonly used resources, memberships, as well as for continued training and professional development. Education systems are dynamic. Therefore, credential evaluation training, resource review, and professional development of evaluation staff is an essential and ongoing process.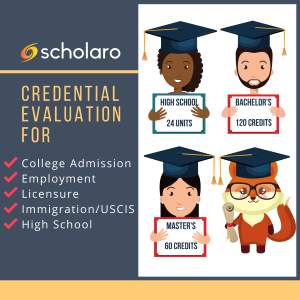 Learn About: