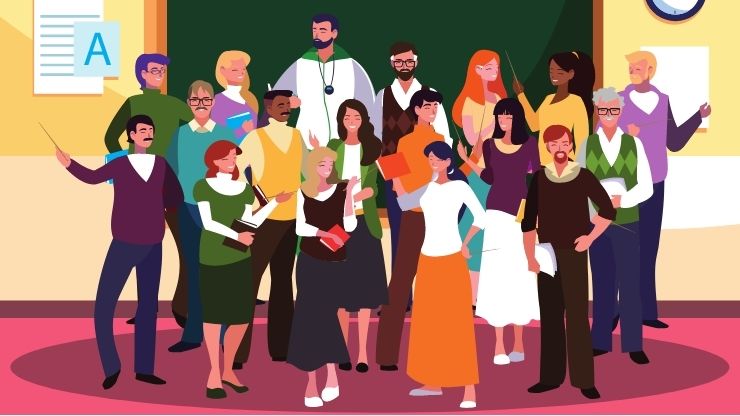 Anybody who wants to teach in the United States likely knows that they will one day need to obtain certification. Teaching certification is a crucial step in the process of becoming an employed teacher, and it exists at both the state and national level. Certification itself comes in many different forms, each with their own set of requirements and classroom applications. But where does one go to obtain certification? In almost any case, a state's board of education is the right place to start for checking all requirements for certification. State boards/departments of education will either be the issuing body of certifications, or they will list the central issuing body that handles certifications.
Here, we will be breaking down the many different types of teaching certifications, how the requirements differ from state to state, and the process of getting foreign credentials evaluated for teaching purposes.
Traditional Certification
Traditional teacher certification is done starting from when a student is in undergraduate. Via this route, future teachers complete undergraduate tracks at their institution that are designed to fulfill the state requirements for teachers. Programs will vary by college, state, and specific discipline. Generally, this pipeline into the profession is the traditional way educators work their way into the field. Once employed, teachers frequently pursue further education either to increase their pay, to make themselves eligible for new positions, or purely because new requirements force them to take continuing education to maintain their licensure.
Frequently, this entails short-term professional training courses/seminars or tertiary coursework. Schools tend to incentivize teachers to remain in one location, and so many teachers may find themselves occupying a single position for a relatively large portion of their career. Teachers are also often encouraged to obtain higher credentials, such as a master's degree, with tiered pay structures. This usually begins with an initial certification for first-time teachers followed by periodic renewal.
Every state in the US has different requirements for teachers as well as alternative pathways to obtain teaching certification and endorsement. Beyond the non-traditional/alternative roads to licensure, states' education departments have clear requirements for teachers.
Below we introduce teaching requirements for five different states to exemplify diversity in requirement:


California:
To become a teacher in the state of California, one must obtain one of three teaching credentials. Each one varies depending on what level is intended to be taught. To teach elementary school, one must obtain a Multiple Subject Teaching Credential. As the name implies, this certification allows for teaching of a variety of class subjects. However, for teaching high school, a Single Subject Teaching Credential is required. This certification is for teaching a more focused, specific subject. The Commission on Teaching Credentialing of the State of California provides a list of subjects available for Single Subject Teaching Credentials. Special Education requires an Education Specialist Instruction Credential. Unlike the other two, this credential has two levels, which are the Primary Education Specialist Credential and the Clear credential, which is completed after finishing an approved Teacher Induction Program.
Although the credentials are all useful in different fields, there is still plenty of overlap. Both the Multiple and Single Subject Teaching Credentials can permit for teaching K-12, in addition to just elementary or high school. Each teaching credential requires a bachelor's degree, which in this case is referred to as "baccalaureate," or higher. Credentials last for five years and will require renewal/re-certification upon expiration.
Georgia:
The Georgia Professional Standards Commission provides a nice and detailed guideline for aiding anyone who wishes to teach in the state. Georgia Educator Certificates are issued based on the age range of schooling (e.g., Elementary, Middle, Secondary) that one intends to teach. Should someone not know which group to teach, the website also indicates: "If you are unsure which grade level or age group you would like to teach, you might want to try substitute teaching, volunteering at a school, or working as a Paraprofessional to get experience with students of different ages."
Much like with California, elementary school certification involves teaching all subjects, while middle and high school requires just one or more specialized subjects. Georgia's special education certification requirements are like California's two-level credentialing, where there are two certifications: first is "General Curriculum" and the second is "Adapted Curriculum". The website makes it known: "In most cases you are not required to have a degree in a related field to pursue initial certification. However, you will have to meet content assessment requirements and a related degree or experience may be helpful." The criteria mentions that there are approved certification programs at both the bachelor and master level. In addition, the state provides a series of tiered certifications that are earned based on experience, from student teaching to mentoring new teachers. Many new teachers will obtain the Induction Certificate.
Certification comes in one of two forms: traditional or alternative. The Traditional Path is very similar to the Traditional Certification section above. The Alternative Path involves a process of qualifying for the certificate, getting employed, and then completing a certification program later. However, one must have a bachelor's degree. Another credential to obtain is the Provisional Certificate. This is a non-renewable certificate that lasts three years and allows the individual to teach while they complete their certification program. It also has a GPA requirement of a minimum of 2.5 or higher.
Illinois:
The Illinois State Board of Education highlights that one must obtain a Professional Educator License (PEL) to be certified as a teacher in the state. If a teacher from another state wishes to teach in Illinois, then they must possess a bachelor's degree and a valid out-of-state teaching license that is comparable to the Illinois PEL. Those who are becoming teachers without a prior out-of-state license must also possess a bachelor's degree or higher, from a regionally accredited institution, and complete all steps of verification, including experience with student teaching (or equivalent).

When it comes to the specific age range being taught, there will be an additional test that must be completed. Tests are available for every group from early childhood education to secondary. There are also a few special education positions with a required test for each one. For middle and secondary teaching, the curriculum requirement is subject-specific, much like California and Georgia. Early childhood education requires multi-subject teaching capability like in the other states, but the website does not clarify if the same is required for elementary education teachers.

The Illinois PEL is also required for school support staff (E.g., school social workers, nurses, etc.) and administration (E.g., principals, superintendents, etc.), although the minimum required degree is a master's degree for these specific licenses.
There also exists an alternate route to certification. This option is primarily for those who are interested in changing careers to become a teacher. The individual must possess a bachelor's degree and pass an applicable content area test. From there, one must complete the specific requirements. Those pursing alternative certification will need to complete a two-year residency with the aid of a "Mentor teacher."
New York:
New York State requires that all teachers, administrators, and "pupil personnel service providers" must obtain certification through the New York State Department of Education. As is the case with other states, one must have a bachelor's degree, and they need to obtain the state qualification, which for here is the New York State Teacher Certification Exam.
Much like with Illinois, New York provides a clear path for career changers. They, along with college graduates, can get their certification if they have a bachelor's degree and a GPA of 2.5 or higher. The first kind of certification that first-time classroom teachers must obtain is the Initial Certificate. Holders of this qualification can advance to the Professional Certificate after five years. For out of state teachers looking to teach in New York, the Conditional Initial Certificate – Classroom Teacher is required.
There is also a pathway for Alternative Certification for those without a bachelor's degree. One would enroll in the New York State Alternative Teacher Preparation Program at a college or university. Applicants must possess an undergraduate GPA of 3.0 or higher, along studying with a major in the subject of expertise. They can then apply for the Transitional (B) Certificate, which would then lead to the Initial Certificate (but not the Professional Certificate). National Board-Certified Teachers can also seek certification in New York, specifically by applying for the Initial Certificate. The pathway for National Board certified teachers appears to be relatively straightforward, as the state can provide a state title that is comparable to one's National Board certification.
Texas:
Our final example, Texas, shares much in common with the previous states listed. On their website, they provide paths to certification in the form of easy-to-follow lists. For initial, Standard Certification, the process is to first obtain a bachelor's degree, complete an Educator Preparation Program, pass the Certification Exams, submit a state application for certification, and then completing fingerprinting (which is a final requirement in other states like New York, too). Upon completing these steps, one would be able to be employed in Texas as a classroom teacher.
Just like in other states, there is a path for alternative certification. The steps are to first decide what to teach, then select an approved Texas University, meet the screening criteria of the program, develop a certification plan within the program, complete the program, including student teaching or an internship, obtaining a teaching position, applying for a probationary certificate (post-bachelor's degree only), applying for the Probationary Certificate, registering for and complete state exams, and then applying for the Standard Certificate. Texas also has a university program-based certification pathway, and the steps are nearly identical to the ones for the alternative pathway.
Conclusion:
It appears to be evident that, across all five states mentioned, there is one prominent similarity: having a bachelor's degree is essential to becoming traditionally certified to teach. When we think about it, what is a bachelor's degree? Many might understand what a US bachelor's degree is, but there exist numerous foreign higher education degrees that international students might possess when looking to teach in the US. Degree programs such as the Licenciatura from Mexico, the Benke from China, or the Magister from Poland are comprised of typically four or more years of postsecondary coursework and result in titles that can be awarded in fields that are relevant to education and teaching. But does that make these degrees the same as US bachelor's degrees? Here is where credential evaluating comes in and works to examine foreign degrees and determine their US equivalencies. Scholaro specializes in foreign credential evaluation services, including credential evaluation reports that are accepted at numerous institutions across the US. A credential evaluation report can be used when applying for teaching certification with a foreign degree.
Teaching boards from any state will require credential evaluations from recognized agencies. Some states have lists of acceptable evaluation agencies, including Illinois and New York—Scholaro reports are accepted by both, as well as numerous other state boards. Some states will only specify that they require an evaluation from any agency that is approved by government-recognized organizations, including NACES or AICE. Scholaro is a member of AICE. It is important to remember that foreign credential evaluation requirements are different from state to state. The best way to make sure is to check with the state at the time of application to verify which agencies are accepted.
For states that have clear GPA requirements for certification, such as New York, Scholaro also provides an online GPA calculator that can be very useful. A Course-by-Course credential evaluation would also include a detailed breakdown of the coursework, with credits, grades, and GPA converted to the US standard.
Below you can find links for further information about education and teacher certification for all 50 states and Washington, D.C.