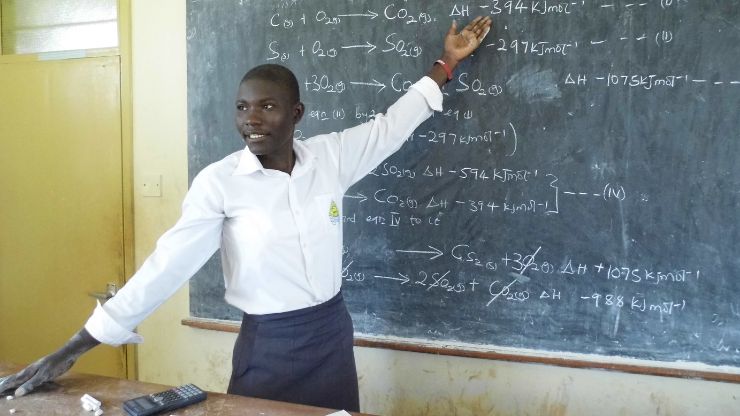 Uganda's education system is primarily based on the British system, stemming from their past as a protectorate of the British Empire that ended in 1962. The landlocked country in East Africa is rich in culture and geographic diversity. Historically Uganda has faced political and economic difficulties which continue to challenge the country today, but there are signs of hope and improvement, especially in the education sector, as efforts have been made to increase the literacy rate and attendance in primary and secondary schools. Uganda's education system may share similarities with the United Kingdom, but knowing a little about Uganda's history, and the challenges it faces makes the differences in education systems easier to understand.
Education is administered in English in Uganda throughout all levels of the education structure. The educational system is set up so that children spend seven years in primary school, six years in secondary school, and three to five years in post-secondary school. Unfortunately, challenges such as funding, teacher training, rural populations and inadequate facilities remain issues for the educational system of Uganda.
One of Uganda's main policy tools for education is Universal Primary Education (UPE), which was established in 1997, when the government declared that primary school would be free for all children. This amendment immediately increased the attendance rates of primary schools and the numbers have continued to climb.
Following the significant gains of UPE, in 2007, Uganda introduced its Universal Secondary Education Public Private Partnership programme. Uganda was the first sub-Saharan African country to introduce universal secondary education (USE). This program successfully increased lower secondary school enrolment by 25% between 2007 and 2012.
There is also an issue of discrimination against girls in terms of education in Uganda, as they face harsher barriers when trying to gain an education and this has left the female population of the country disenfranchised. The government is trying to help resolve this inequity by implementing programs such as the National Strategy for Girls' Education (NSGE), and policies targeted at adult education such as the Functional Adult Literacy Programme, Women's Empowerment Programme, and the National Adult Literacy Strategic Investment Plan to bring equality in the education system.
The overall education structure still closely resembles that of the United Kingdom. In Uganda, students receive the Uganda Certificate of Education (UCE) when they finish the four year lower secondary school program following seven years of primary education, for a total of eleven years. The examinations are administered by the Uganda National Examinations Board. The UCE is considered comparable to the General Certificate of Education "O-Level" in the United Kingdom. In fact, the Uganda Certificate of Education is sometimes called "O-Level" by people in Uganda.
Another similarity between Uganda and the United Kingdom is the upper secondary education level, or Advanced Level. This level consists of years twelve and thirteen and can also be considered a pre-university level. The Uganda Advanced Certificate of Education (UACE) is comparable to the General Certificate of Education "A-Level" and is also referred to as "A-Level" in Uganda. The UACE examinations are administer by the same Uganda National Examinations Board that administers the UCE.
Beyond upper secondary education, Uganda and the United Kingdom have a stark contrast in the opportunities for post-secondary education. Uganda only has a small number of post-secondary education institutions, with various programs of study ranging from half a year to five years. While an estimated 60-70,000 students graduate secondary school each year with the qualifications to go on to higher education, only about 35% of these secondary school graduates are able to get the limited openings at the higher ed. institutions in Uganda.
As of 2021 there were 54 accredited universities in Uganda, including 8 public and 46 private institutions. Due to funding shortages in public education, the private sector has seen the most growth recently. The largest university in Uganda is Makerere University, one of the oldest English-speaking universities in Africa. It has a strong reputation and attracts many students from neighboring countries in East Africa, as it is considered one of the top universities in the continent.
Makerere University is made up of nine colleges and one school offering programmes for roughly 36,000 undergraduate and 4,000 postgraduate students. Higher Education institutions in Uganda are regulated by the National Council for Higher Education (NCHE), a part of the Uganda Ministry of Education & Sports. NCHE also provides guidance for the establishment of higher education institutions and provides accreditation to institutions. The NCHE website lists all registered higher education institutions in Uganda.
Post-secondary education in Uganda is structured similarly to the education system of the United Kingdom, with 3–4-year bachelor's degree programs, 1–3-year Master degree programs, and 1-3-year Doctorate programs. In addition to these familiar post-secondary education programs, some Ugandan higher education institutions have programs for education and medicine that have their own durations. The "Grade III Teacher Certificate," and "Grade IV Teacher Certificate" are 2-year programs. The "Grade V Teacher Certificate," is a 3-year program. There is a 5-year undergraduate Bachelor of Medicine and Bachelor of Surgery program available in Uganda before Master or Doctor of Medicine degree programs.
At the university level, Uganda once had a common percentage-based grading system. The common system set 40 percent as the lowest passing grade, and 70 percent or higher was considered first division. As you can see on Scholaro's Grading System database for Uganda, many universities are coming up with their own grading scales, and some are adopting letter grades in a nod to North American grading practices.
Uganda has a wealth of biodiversity, with 60 protected areas, including ten national parks. The country is home to a vast number of animal species, including mountain gorillas, golden monkeys, and hippos, and a wide range of geographical climates across its landscape ranging from mountains to great lakes, tropical forests to arid steppes. This beautiful country is working hard to improve its education system to grant more opportunities for its citizens. As of now, many Ugandans seeking higher education may have to travel abroad to pursue their dreams.
The U.S. is the most popular destination for degree-seeking students traveling from Uganda, with Canada a close second. Educational credentials from Uganda should be evaluated by a qualified agency for students seeking to study or work outside of Uganda. Scholaro can prepare a General or a Course by Course evaluation of these credentials as well as certified English translation of any document not issued in English.