Every year, higher education institutions in the United States receive a large number of applications from international students from India. In 2019, the U.S. Embassy & Consulates in India reported that the number of Indian students studying at higher education institutions in the United States had topped over 200,000—a new record. According to the Open Doors Report on International Education Exchange, cited by the U.S. Embassy, this large total of students accounts for roughly 18 percent of all the international students combined in the United States. It seems very likely that this trend will continue to rise every year.
With so many international students coming from India, it is necessary for international educators to become informed about India's education system. Above all, it is very important to understand the nuances and methodologies of grade transcripts (sometimes called marks sheets) issued by institutions in India. Here, we will explore how to approach grading at both the secondary and postsecondary levels.
Secondary:
Primary and secondary education in India is compulsory and lasts for 10 years. Upon completion of the secondary school examinations (Standard X/Class 10), students can enroll in higher secondary education. Completion of the higher secondary examinations (Standard XII/Class 12) will enable a student to then enroll at higher education institutions in India.
Grading for secondary and higher secondary examinations will often follow one of a variety of different grading systems.
Traditional Marks System:
Many older, and some newer, examinations might be graded using the traditional marks-based system. This grading system has been used by various institutions for decades. It is graded based on the percentage of marks obtained/earned out of the total marks possible for a given examination subject. The percentage of marks earned will often be complimented with a classification/award. For example, if a student earns 60 out of 100 total marks, then they would have a grade of 60%, which is considered First Class/Division. The Traditional Marks system is outlined in Figure 1.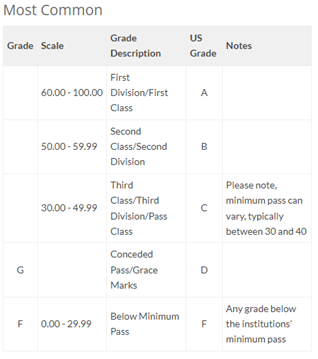 Figure 1: Traditional Marks conversion scale. Source: Scholaro Database.
A unique feature of the Traditional Marks system includes the varied minimum passing marks, which tend to be anywhere from 30 to 40. Very rarely, there can be some programs graded with a minimum passing percentage below 30 or over 40. It is recommended to check the marks sheet/transcript to understand the minimum for passing.
In addition, there is also the potential for Grace Marks, or Conceded Pass grades. These grades are awarded for subjects with a total that is below the minimum for passing, but since the average for the year (or overall program) is above passing, the individual failing grade can instead be counted as a passing grade.
Central Board of Secondary Education Grading System:
Standard X and XII examinations administered by the Central Board of Secondary Education (CBSE) might be graded with either the older or newer version of their standard grading scale.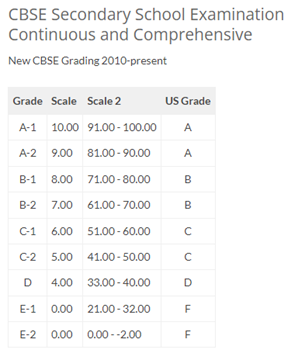 Figure 2: Central Board of Secondary Education grade conversion scale. Source: Scholaro Database.
There are other examinations offered by state-level examination boards and other central institutions such as the National Institute for Open School (NIOS). For these grading systems, the documents should provide the system used; otherwise, it is recommended to check an awarding institution's website for standard grading information.
Postsecondary:
Higher education in India is very diverse and involves a variety of different paths. Bachelor's degrees tend to be three of four years, although there are longer programs in professional fields. There are also "post-bachelor's degrees" that are earned after completing a three-year bachelor's degree. Master's degrees require the minimum of a three-year bachelor's degree for admission and typically last two years, followed by doctoral degrees. There are also credentials in certain fields, such as accounting and nursing, that are offered by government-backed higher education institutions.
Grading for postsecondary programs is more institution-specific than secondary and higher secondary. There is the traditional marks system, as was discussed earlier and shown in Figure 1. Institutions will have their own determined minimum passing marks provided in a degree program's marks sheet(s). Some institutions, such as Jawaharlal Nehru Technological Universities, award First Class/Division with Distinction as a higher grade than First Class/Division. Institutions also determine if they will award grace marks/conceded pass grades for failed exams.
Postsecondary grading could also follow the newer Choice-Based Credit System (CBCS). The CBCS scale was proposed by the University Grants Commission of India (UGC) in 2014/2015 as a new grading system that could be customized by any accredited institution. This grading system is out of 10 grade points, and each grade point has a letter grade that is subject to change depending on the institution. The main converting factor is the grade point value, so it is always important to have the exact grading information to properly convert CBCS grades. This grading system is shown below in Figure 3.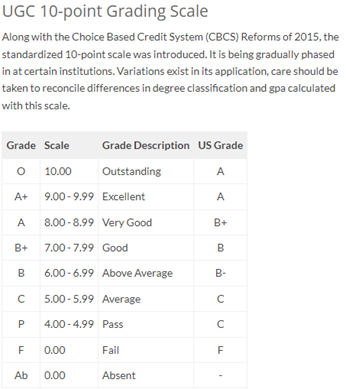 Figure 3: University Grants Commission CBCS grade conversion scale. Source: Scholaro Database.
Institutions can choose how they adapt and change their CBCS grading. Interestingly, letter grades, and sometimes percentage scales, are usually the only part that changes from one institution to another. Schools will develop letter grade systems that deviate from the standard CBCS, yet they will often keep the same 10-point scale except where the minimum for passing is five or four.
The University Grants Commission explains that the CBCS follows standardized letter grades and grade points, but they do not explain why letter grades change and not the grade points. Upon review of the UGC's CBCS regulations beginning in 2014, it would appear that there are no rules listed that specifically enforce consistency in the grading system. There are also no rules stating that institutions cannot change the grading system from the UGC outline. A lot of the emphasis for measuring student academic performance appears to be on the Semester/Cumulative Grade Point Average (SGPA/CGPA). SGPA/CGPA is calculated based on the grade point values and credits for each exam subject in each semester completed. Since the SGPA/CGPA system is relatively uniform under the CBCS, it can be inferred that grade points remain the same to maintain "seamless mobility of students" between institutions, as the UGC illustrates.
Although many colleges and universities will use the 10-point scale, some may still provide a grading scale that is not standard. A less common CBCS scale is the seven-point scale. The University of Mumbai used this as the basis for their grading scale until 2016, which is outlined in Figure 4. In 2016-17 academic year the university switched to a 10-point system.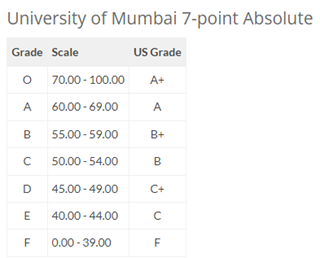 Figure 4: University of Mumbai 7-point scale. Source: Scholaro Database.
Some other institutions that use their own unique grading system include University of Madras, NALSAR University of Law, and The Indian Institutes of Technology, which tend to each use their own unique grading system depending on the campus. This is subject to change as more and more institutions adopt grading practices following the CBCS.
One more important thing to mention is that although the CBCS is more recent and tends to be more common with current postsecondary programs, there are still many programs that will be graded according to the Traditional Marks system. In addition, some institutions that follow the current CBCS could award grace marks. It is recommended to check the backsides of marks sheets for any grading information because institutions decide if they wish to award Grace Marks. If there is no information in the mark sheets, then it is recommended to check the institution's website since many institutions will often provide their regulations regarding these grades online.
Conclusion:
Although many programs appear to follow standard grading methods, Indian grading is essentially institution specific. Converting grades from India starts with understanding the issuing institution and knowing the exact grading methodology they follow for a given program. One should become familiar with legislation and regulations regarding institutions and the rules of their programs of study.
Sometimes, it can be a challenge trying to determine the grading system for certain programs. Professional credential evaluation organizations such as Scholaro work to keep track of the different grading systems used by institutions across India. Scholaro provides credential evaluation and GPA calculation services for Indian secondary and postsecondary programs of all kinds, converting grades based on institution-specific grading systems. Further resources are available on the Scholaro Database.