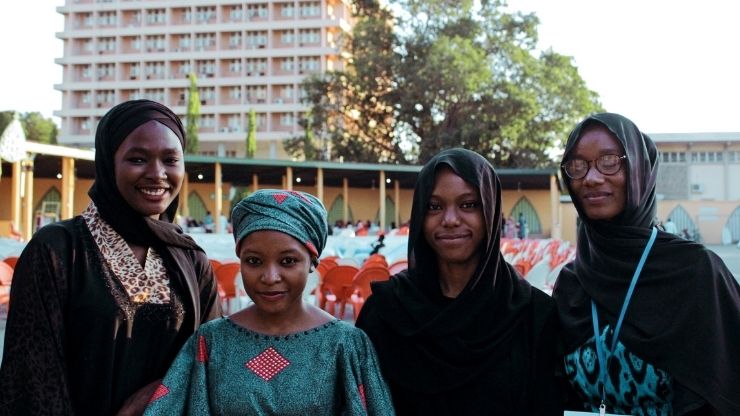 Nigerian pre-tertiary education is structured based on six years of primary school, three years of junior secondary, and then three years of senior secondary education (6 + 3 + 3). Primary and junior secondary education is compulsory and is often completed by attending a regionally accredited public or private school. At the end of the nine years, students will earn the Junior School Certificate. Senior secondary school can be completed in a similar fashion. But, when senior secondary school ends, students will take one or more nationally accredited examinations that, upon completion, will grant access to applying for higher education.
Many students will complete the West African Senior School Certificate Examination (WASSCE), issued by the West African Examinations Council (WAEC). This exam is offered not just in Nigeria, but across the other four other WAEC nations: Ghana, The Gambia, Sierra Leone, and in Liberia—although the exam tends to have alternate names in each country. The exam itself consists of six compulsory subjects and then students select two or three elective subjects. Many universities in Nigeria, such as Babcock University, require a minimum of five credits from the WASSCE for admission, with two of the passes being in English Language and History/Government. If students do not achieve a university's minimum pass requirement, then they can retake the WASSCE at another time until they have the required number of passes.
The WASSCE is offered to either teaching school or private candidates. School candidates will take the examination upon completing senior secondary school. Private candidates do not need to be enrolled in a teaching school to take the exam. This means that some of the private candidates might be younger than their counterparts who complete the WASSCE for school candidates. Private candidates also might include those who have taken the WASSCE exam previously or have three exam passes in either the GCE or the Grade II Teacher Certificate examination.
Another popular examination for granting access to higher education is the Senior Secondary Certificate Examination (SSCE), issued by the National Examinations Council (NECO). Unlike WAEC, NECO is specific only to Nigeria. It was founded by the government of Nigeria in 1999 to provide an examination that would operate alongside WAEC. The organization itself refers to themselves as the "home-grown alternative examination body." NECO and WAEC do work side-by-side in the Nigerian education system—for example, Babcock University's WASSCE requirements also equally apply to the SSCE. Similarly, to the WASSCE, the SSCE is comprised of six core subjects and then students select two or three electives.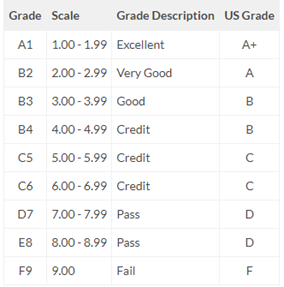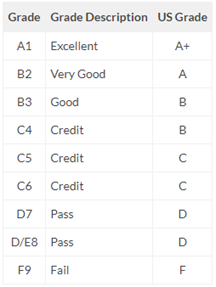 Above are the grading scales used for the WASSCE (left) and SSCE (right). Students need to earn a minimum of grade D/E8 in either exam for it to be considered passing. The converted US grades are nearly identical for both exams, and this in large part because both exam grading scales are essentially identical. These scales (along with hundreds of other grading scales from around the world) are also available on Scholaro Pro.
It is not uncommon for students to take both the WASSCE and SSCE examinations. There is no special benefit to completing both, although it could help the student with getting admitted into a university with the right number of passes. However, only one of the two exams is required for admission. For students wishing to study in the US, they need to have a minimum of five passes to be considered eligible for enrollment (according to NCAA).
Students also have the option of completing the International Baccalaureate (IB) Diploma Program (DP) at an IB World School in Nigeria. Currently, there are three IB World Schools in Nigeria that offer the Diploma Program. Even though the IB DP is a less common credential than the WASSCE and SSCE, it is available as an alternative option for completing secondary education and having access to applying for higher education in Nigeria.
Another International program that students can complete for university enrollment is the International General Certificate of Secondary Education (IGCSE) exam offered by Cambridge International Examinations. These exams are much like the GCE O-level exam that used to be offered in Nigeria until WAEC was established. Just like with the WASSCE and SSCE, the minimum number of passes is five.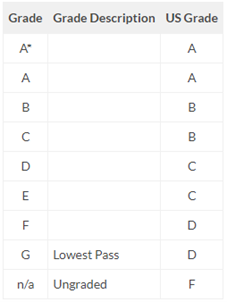 Above is the grading scale for the IGCSE (also available on Scholaro Pro). The grades are very similar to the ones in the WASSCE and SSCE scales, although there are some notable differences. The pattern for awarding grades is the same, but the highest possible US grade for the IGCSE is A, not A+. The lowest passing grade goes all the way to G, but only exams that are ungraded will be considered failing.
With such a variety in exam options, there are many ways for Nigerian senior secondary students to succeed and gain access to applying for higher education.
July 2023 Update:

The WAEC scratch cards have been useful for confirming authenticity of WASSCE examination certificates. However, recently, WAEC in Nigeria introduced an online verification system that will eventually replace the scratch card altogether.
Applicants who completed their WASSCE exam from 1999 to present can obtain a WAEC Digital Certificate at www.waec.org. The process is straight forward: applicants can create an account, enter their information to access their digital certificate, and then they can share their digital certificate with any institutional email address. Based on our current understanding, the price for sharing a certificate with an institution is N3,500.00 ($4.54 USD as of July 3, 2023), and the payment is processed from a digital wallet through WAEC. When an institution receives the digital certificate, they will receive an email from WAEC where they can confirm authenticity by entering the candidate's information and receiving the digital certificate. Institutions also have the option to pay to verify digital certificates in bulk.
Those who completed their exam between 1980 and 1998 will still need to provide a scratch card, although WAEC plans to incorporate exams from these years into their new online system. WAEC exams from Ghana, Sierra Leonne, Gambia, and Liberia are currently on-track to receiving digital certificate access. In the meantime, these exams can still be verified with a scratch card. Scholaro aims to stay up to date as WAEC continues to roll out more improvements to their online verification system.