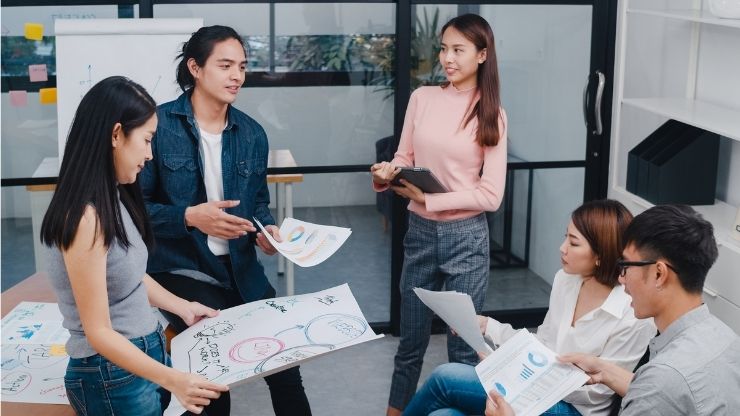 Ever since the turn of the century, international students and study abroad in general became a major source of revenue for universities in the United States. China, as the most populous country on the planet, remained the overwhelming majority within the international student community, occupying over 35% of all foreign students studying in the U.S. across different levels of education, almost double the share of the second place India at 18%. The Pew Research Center also concluded that the number of Chinese students grew from under 60,000 in 2000 to almost 400,000 two decades later.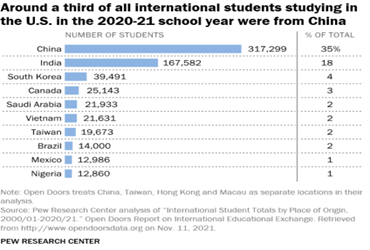 Number of Chinese students during the last academic year
During the recent years, to explore unconventional methods of international education for the younger generations in China, universities and local government in China partnered up with a few institutions in the U.S. to establish collaborative colleges with their campuses based in China. Unlike branches of colleges and education centers created for study abroad purposes, those collaborative institutions are degree-issuing and officially recognized education institutions crafted by elite universities around the world. Some examples of such collaboration from the past decade include Duke Kunshan University, New York University Shanghai, and Tsinghua–UC Berkeley Shenzhen Institute.
Why switch to this new method of international education, one might ask? Jessica Sandberg, the Dean of International Enrollment at Duke Kunshan University, offers her opinion: "What sets DKU apart is that we are a true international university", states Jessica, "it is about more than just bringing over the faculty from Duke and teaching in English". The concept Jessica mentioned, true international university, is what differentiates institutions like Duke Kunshan University from others in China and around the globe. It is not difficult to hire instructors and staff members from the United States and have the programs to be taught in English. However, few universities design their own unique curriculum to integrate a wide variety of subjects into their programs to facilitate students to develop a holistic view with global perspectives regardless of what programs the students enroll in. Similarly, Tsinghua-UC Berkley Shenzhen Institute also offers international curriculum combining aspects of Chinese and American higher education in an international context. Courses such as Low Carbon Economics and Technologies, Next-Generation of Internet and Web, and Advanced Managerial Economics are all best interpreted in an international context.
Aside from the diverse curriculum, Duke Kunshan University also implements a unique admission process for the Chinese students. Unlike the traditional method for Chinese universities to accept students, where the admission decision is 100% based on student's performance in Gaokao, the Chinese university entrance examination, the admission process at DKU integrates components such as in-personal interviews, extra-curricular activities, and academic records from high school. The grades from Gaokao are only weighted at 50%, no longer the sole determinant of admission. This application process allows students to present themselves more holistically to the schools they are applying for and no need to stress over getting unsatisfactory Gaokao grades. Even if the intense Gaokao examination do end up failing the students, there is still hope for study abroad opportunities. Xi'an Jiaotong-Liverpool University, a British pattern collaborative institution, offers an unique 2+2 type of undergraduate programs. Students enrolled in any of the undergraduate programs at this university are offered with entry opportunity to finish the third and fourth year of the programs at the University of Liverpool, a prestige public research university in the U.K. (https://www.xjtlu.edu.cn/en/study/international-mobility/transfer-to-university-of-liverpool). The students can also receive dual degrees and tuition reduction if they choose to engage the 2+2 programs.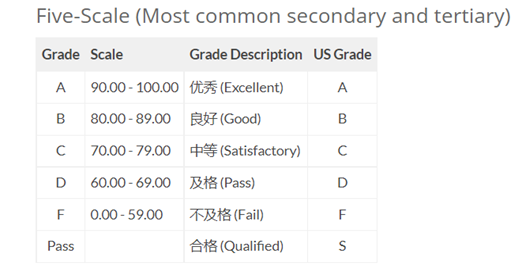 The most common secondary and tertiary grading scale from scholaro.com/pro
Another unique feature of institutions like the DKU is the grading system. For students who wish to pursue a future study abroad career in the United States, getting familiar with the grading scales can be useful. Even though the grading system at DKU is not an exact match with the most common grading scale in the U.S., it certainly is similar enough compared to the traditional tertiary education scale in China. Students can use international GPA calculators such as Scholaro Premium to help convert GPA earned in other countries outside of the United States, but when their transcripts use a U.S. grading scale, they may not need to. Like DKU, New York University Shanghai adopts a similar approach with grading, offering a 4.0 GPA scale for all of its programs (https://www.nyu.edu/students/student-information-and-resources/registration-records-and-graduation/transcripts-certifications-grades/grades.html). Another benefit for institutions to do so is that out of the 30% international students who came from other countries outside of China, not all of them are U.S. applicants. Students from Mongolia, Vietnam, South Korea, and other nations around the globe will also appreciate getting the practice of U.S. grading system and curriculum.

An example of undergraduate GPA calculation at Duke Kunshan University
During the pandemic, DKU was able to house students who were unable to access the Duke campus in North Carolina. Instead of taking online classes at 2 AM from across the Pacific Ocean, Chinese students accepted to or attending Duke University can simply enroll in classes at DKU and not struggle to get sufficient sleep at night. Upon the request of the Ministry of Education in China, DKU also helped with housing Chinese students attending other universities in the U.S., contributing to international education in an unexpected way. In addition, the tuition fee for DKU can be relatively inexpensive compared to paying tuition in U.S. dollars, a great way to provide affordable international education during the pandemic.
Ultimately, although not yet mainstream in the field, collaborative institutions like that of DKU are actively exploring uncharted territory in international education. Programs offered at those universities are great alternatives for students who wish to get a taste of education in the U.S. and not willing to commit to the travel and living abroad. The U.S.-patterned curriculum, language of instruction, and grading system can help immensely to prepare students for future study abroad experience. "I am pleasantly surprised at the level of enthusiasm during the past two years for international education", concludes Jessica, "we would expect the pandemic to make people want to stay closer to home, but in the end we over enrolled international applicants last year, perhaps this experience also reshaped people's beliefs and drive them further with the idea of innovation and breaking from the convention". No one can predict what the future will be like for international education, but those collaborative institutions in China are certainly promoting a refreshing method not only to students in China but also for the younger generations around the globe.