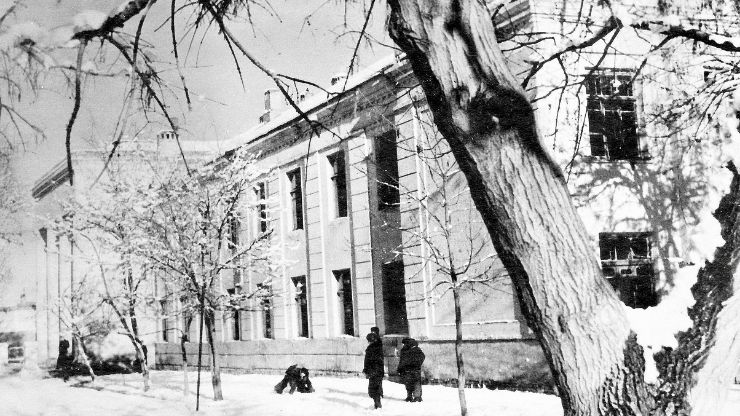 Uzbekistan is a doubly landlocked nation in Central Asia, bordering with Turkmenistan, Afghanistan, Tajikistan, Kazakhstan, and Kyrgyzstan. The region was once a part of the Persian Empire, which was conquered by Alexander the Great. It was later under the Mongols in the 13th century, after Genghis Khan conquered it from the Seljuk Turks. It later came under the Tamerlane great empire. In 1925 the region was under the control of the Soviets and became the most populous Soviet Republic. As we approach Uzbekistan's 30th anniversary of its independence from the Soviet Union, one can still see the influence of the Soviet system of education. There have also been notable reforms and work in progress toward a structure that gives greater opportunities for more students to pursue higher education.
Pre-Reform, Uzbekistan's education system followed a 9 + 2 structure of a Soviet-based system, and completion of year 9 was compulsory. General Secondary school, known in Russian as Srednya Shkola, included an upper secondary education program that emphasized languages, math, and science. It has since been found by presenters at AACRAO's 91st Annual Meeting that the pre-reform system did not have enough occupational preparation. Only about 10% of secondary school graduates could enter higher education.
Uzbekistan gained independence from the Soviet Union on September 1st, 1991. It joined the Commonwealth of Independent States in December of that year.
Since their reform, a 9 year "General Education" + 3 year "Lyceum" or "college" structure has been in place. Uzbekistan is currently transitioning from 11-year to 12-year Primary and Secondary education system.
The Constitution of the Republic of Uzbekistan of 1992 included Article 41, which guarantees the right to education, that the state will provide free secondary education, and that schooling will be supervised by the state.
The nation had a Compulsory Education requirement of 11 years up until 1993, when it was shortened to 9 years due to funding shortages, and it has transitioned to 12 years effective in 1999 with the National Program on Personnel Training.
In 1995, a Law on Education was passed. In 1997, an update on the law on education established the bachelor + master degree structure in higher education, and the National Program of Personnel Training was passed by Parliament.
The first cohort of pupils completing 12 years entered higher education in 2001. Full implementation of the 9 + 3 structure with completion of full secondary education as compulsory was planned for 2009, despite problems with implementation and funding along the way. As of 2003, about 40% of children were enrolled in the new system.
The second phase of the implementation of the National Program of Personnel Training began in 2004. Also as of 2004, the country requires 12 months of military service, compulsory for males of age 18, however, full-time students can serve after completing their bachelor's degree.
The Ministry of Public Education supervises education through year 9, and Pedagogical Institutes for teacher training. The languages of instruction for higher education are Uzbek and Russian.
Every student is seeking to earn their Certificate of Completed Secondary Education, or to follow a Vocational and Technical (VTE) education. "This is provided at two levels: the first level offers six months to three years of basic vocational training after Grade IX; the second level generally offers at least two years of training (post-secondary) in over 300 specializations leading to the Diploma of Specialized Secondary Education. A network of specialized secondary vocational institutions was formed in 1997/98.
Literacy is practically universal for both men and women (99%). However, considering that the government is implementing a long-term program of transition from Cyrillic to Latin script, in the short-term there could be some changes in the literacy rate." https://www.euroeducation.net/prof/uzbekco.htm
The Ministry of Higher and Specialized Secondary Education supervises upper secondary and higher education. Higher education institutions are also administered by ministries of Public Education (for pedagogical institutes), Heath, Agriculture, Justice, Culture, Foreign Affairs, and the Cabinet of Ministers.
Since 1996, the subjects tested for admission to higher education are uniform: Native Language and Literature; Foreign Language (English, German, or French), and either Social Sciences or Natural Sciences. Tuition is charged for higher education, and as of 2005 it ranged from the equivalent of $300 USD, to $800 per year (per capita income was about $1700 USD per year). Financial aid options include scholarships, grants, and fellowships. Test results determine if students will receive a grant ("budget" student) or have to pay their own tuition ("contract" student"). All students, whether "budget" or "contract," receive a stipend.
The test results from 2004 showed that 20% of applicants were admitted to higher education, according to Uzbekistan National News Agency, UzA, http://www.uza.uz.
According to a study by TEMPUS Uzbekistan from 2002, 30% of students study in the Education field, 19% in Engineering/Technical, and 18% in Business and Law.
There are 131 higher education institutions in Uzbekistan, including 28 universities, 38 institutes, 3 academies, 25 branches, 1 conservatory, 22 branches of foreign universities, and 9 non-governmental higher education institutions. https://edu.uz/uz/otm/index The Centre for Accreditation and Evaluation of Educational Institutes within the State Test Centre evaluates the performance of educational establishments, including private ones. https://www.euroeducation.net/prof/uzbekco.htm
The Bachelor's Degree (Bakalavr) is the first terminal degree conferred after four years of study. University level second stage is either the Specialist Diploma, or Master's Degree (Magistr). The Diploma of Specialist is conferred after at least five years' study in a given field. Students can now acquire a Master's Degree (Magistr) after a further two years' study beyond the Bakalavr. University level third stage is the Doctorate. The Kandidat Nauk Degree used to be conferred after a further three years' study beyond the Diploma of Specialist and the defense of a thesis and the Doktor Nauk was conferred after the Kandidat Nauk and the defense of a major thesis. Now, six years of study are needed after the Magistr for a full Doctor's Degree. This is broken down into two stages: Stage one, Candidate of Sciences, and Stage two, Doctor of Sciences.
The academic calendar is 2 semesters (September 2nd to late December, and early February to late June), and instruction is given 6 days per week. Some institutions have a 3-term calendar. There are annual examination periods at the end of each academic year, repeat examination periods in late June, and results are announced in July.
At the basic education level, 73% of the teachers have higher education while 22% have only secondary/vocational education. The retraining of teachers is a priority need taking into account the fundamental changes in the philosophy, content and methods of education.
Educational credentials from Uzbekistan should be evaluated by a qualified agency for use in the United States. Scholaro can prepare a General or a Course by Course evaluation of these credentials, as well as certified English translation of any documents not issued in English.